William Brackett built Brackett house in 1862, which now serves as Cornell College's bed and breakfast. He also erected Mount Vernon's first brick schoolhouse, built its second Methodist church, and completed King Chapel.
The Bracketts had three children: Edgar, Anna, and Clara. For his musical daughter, Clara, he purchased a piano for the then enormous sum of $1,200. She enrolled in the first class of the newly established Conservatory of Music and, after graduating in 1881, joined the faculty and taught piano.
When Clara married William Smith, a former pharmaceuticals salesman and one of the founders of the local bank, they set up house in her childhood home. In later years, her house was the site of many receptions, dinners, and overnight stays for distinguished musicians and other visitors. Perhaps the most famous of her guests was former U.S. President William Howard Taft, who came for three days in November 1916 to lecture at Cornell. She owned the first phonograph in Mount Vernon and was the first Mount Vernon woman to appear at the polls to cast her vote after the passage of the Nineteenth Amendment.
Widowed, Clara married her classmate, Armstrong Spear, in 1912. They remodeled and enlarged the house. When she died in 1927, she bequeathed the house to her daughter, Elisabeth Smith Ford, Class of 1915, a New York journalist and novelist. Elisabeth deeded the house to the college with the proviso that it bear the surname of her grandfather and that her grade school teacher, Clara Blinks, be permitted to live there for as long as she wished. When Miss Blinks died in 1952, the college converted the house into an office for the Alumni Association with guest rooms on the second floor.
Excerpt from Cornell College: 150 Years From A to Z by Charles J. Milhauser. WDG Publishing, 2003.
Brackett Family Tree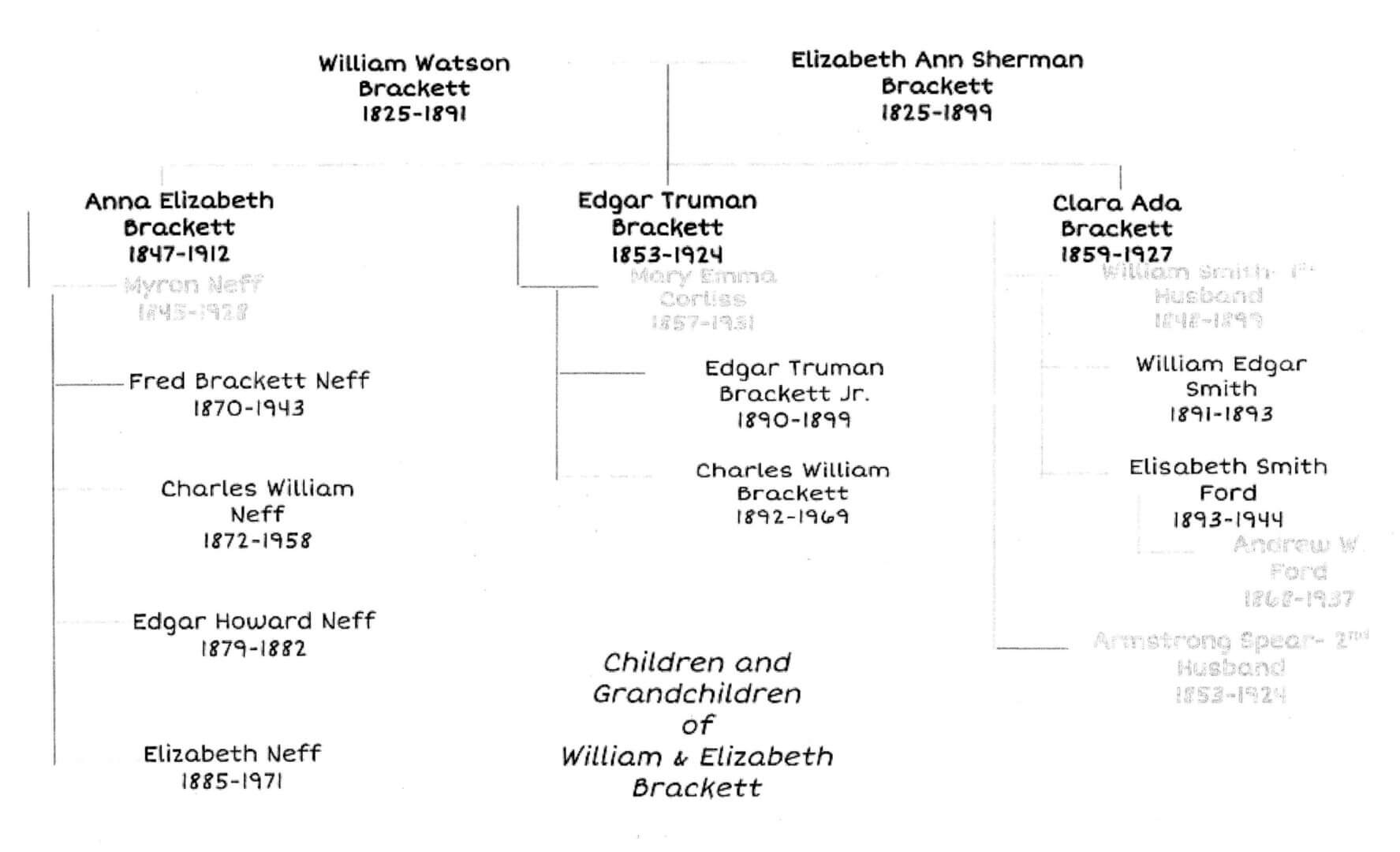 Brackett House Census
Year
Location
Names
Age
Info
1870
Brackett, William
45
Carpenter
  Elisabeth
44
Keeps House
  Edgar
16
Student
  Clara
10
Attends School
Neff, Myron
24
School Teacher
  Anna Brackett Neff
22
Keeps House
  Fred
4/12
1880
Liberty St.
Brackett, William
55
Carpenter
  Elizabeth
44
Keeps House
  Clara
20
Music Teacher
Thompson, William
16
Boarder
Dowe, William
17
Boarder
Hosman?, Grace
16
Boarder
1890- Census destroyed by Fire
1900
Smith, Clara Brackett
40
?Carpenter
  Elisabeth
6
In School
Hartung, Charles
22
Lodger/ Bookkeeper in Bank
Kreb, Emma
20
Servant
1910
Smith, Clara B.
50
Bookeeper/ Bank
  Elisabeth
16
None
Svaoboda, Mary
24
Servant
1920
Spear, Armstrong
65
None
  Clara Brackett Smith
58
None
  Smith, Elisabeth
26
News Reporter
Svaoboda, Marie
25
Maid
1930
Blinks, Clara
58
None
Scisnty?, Eva
26
Lodger/ Secretary for College President
Smedley, Lillian
62
Lodger/ Teacher- College
Woodford, Carrie
24
Lodger/ Teacher- College
1940
Blinks, Clara
65
None
Cocroft?, Robert
28
Lodger/ Assistant Professor-Chemistry